Council pulls non-profit funding
In Rawlins, during Tuesday's City Council meeting, the body voted unanimously to terminate the funding for 10 of the 14 non-profit and ancillary agencies. The decision was made after the organization failed to turn in mandatory financial reports for the third and fourth quarters of the fiscal year that just ended. Cali O'Hare reports.
New Ekola bridge dedication scheduled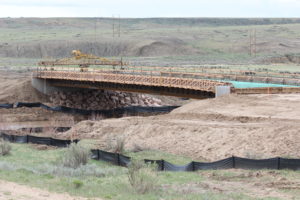 Rocky Mountain Power will formally dedicate the new Ekola Bridge on County Road 121 at a ceremony on July 31st. Located between Hanna and Medicine Bow, the sleek, steel girder span and concrete deck was built to replace a narrow, 80-year-old, steel-trellis bridge at the same location. The old, boxy-looking structure has served as a crossing over the Medicine Bow River since 1939. The Carbon County Board of Commissioners is selling off the old structure. County Road and Bridge Superintendent Bill Nation gave commissioners an update at this week's board meeting.
The new, modern bridge can handle the heavy industrial traffic needed for RMP's master plan of developing a power substation and related wind energy feeder projects north of US 30. Rocky Mountain Power first approached the county about replacing the old cattle-crossing bridge in 2007. The company agreed to pay for the new bridge and 11 miles of road improvements along the CR 121 to carry out its wind energy projects at the northern end of the county. The bridge dedication ceremony is set for 10 a.m. on Tuesday, July 31.
Saratoga tests rotor millings for street use
In Saratoga, the Public Works Department is testing rotor millings leftover from the airport runway rehabilitation project to see how the product works on town streets. Emma Diercks has more.
Speed, improper restraints blamed for fatal I-80 crash
A wild crash on Interstate 80 near Rawlins Monday left one infant child dead and three other children with serious injuries. Now, the Wyoming Highway Patrol is looking to excessive speed and improper use of child restraints as contributing factors. Cali O'Hare has the latest.
Sports: Local athletes predicted to shine in all-star games
Carbon County athletes will be well-represented in upcoming all-star games, the Buffalo Bills and Josh Allen move closer to penning contract, and Rockies pitcher Brian Shaw is on the mend. Joey Saverine has the details.