Hospital eases public concern in future clinic site
Discussion revolving around the Memorial Hospital Board's intent to purchase the Bi-Rite building in Rawlins at a County Commissioner's meeting Tuesday softened public concerns about the deal. Board and hospital officials explained the intent of the project and answered questions about the finances to purchase and remodel the facility. Emma Diercks reports.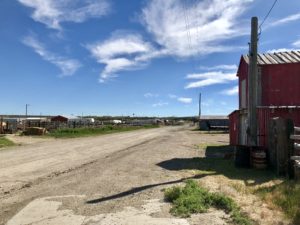 Rawlins officially reduces speed limit in Glenn Addition
The Rawlins City Council formally reduced the speed limit at the Glenn Addition during last night's meeting, but not without some healthy debate. Cali O'Hare has the story.
Enzi rallies behind expansion of health insurance options
In Washington, Wyoming Senator Mike Enzi applauded the expansion of health insurance choices announced by the Trump administration yesterday.
School district chooses company for Saratoga Elementary School repairs
After receiving two bids lower than an engineer's estimate, Carbon County School District #2 selected a company to move forward with the Saratoga Elementary sewer line replacement project. Emma Diercks has the details.
Sports: Chips fly at Woodchoppers Jamboree
It was a family affair at the 58th Annual Woodchoppers Jamboree in Encampment over the weekend.
In MLB, the Rockies slugged their way past the Mets 10 to 8 to win at home for the first time in nine games. Nolan Arenado, Trevor Story, and Ian Desmond blasted consecutive homers during a six-run bottom of the third inning. Carlos Gozalez also went deep. Meanwhile, the Arizona Diamondbacks lost. So the Rockies pick up a full game on the NL West leader and are now sitting five games out of first. Joey Saverine has the stories.